Caltech CMS Techfest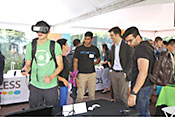 Company Demo Fair Booth Guidelines and Registration
Guidelines and logistics for CMS Partners Program company booths are below. A complete rundown of event logistics will be sent to all registered company contacts via email no later than Friday, October 5, 2018, and will also remain posted here for reference.
Company Booth Reservations and Representative Attendee Registration
For security purposes, our Member Company Booth Reservation and Company Representative Registration forms are not linked here. To reserve a booth, or register to attend as a member company representative (without a booth), please contact us at cmspartners-info@caltech.edu.
The deadline to reserve a booth is Monday, October 1, 2018; however, space is limited, and we anticipate that our booth spaces will fill quickly!
Booth and Swag Guidelines
Note: A message containing a rundown of event logistics, including the guidelines below, will be sent via email to all registered company contacts on Friday, October 5, 2018.
Provisions
For each company booth, we will provide the following.
A booth footprint that is roughly 10 feet wide, containing:
One 6' banquet table, covered with a solid black floor-length tablecloth (company representatives are welcome to trade the tablecloth out for a custom one as desired)
2 chairs
Shade cover for the booth via a canopy or shade sail (with minimum 8' clearance under the canopy or sail)
Power via a surge protector, on an as-needed basis.
All fixtures for each company's presentation must remain inside this footprint, including banners, backdrops, etc. We request that large monitors/displays are placed on the table directly versus using a separate stand.
Swag
Representatives are welcome to display/distribute company swag from their booths, along with flyers/brochures/business cards! We expect 250+ attendees, so this is a great opportunity for visibility.
Representatives can bring swag with them on the day of the event, and we will also accept shipments ahead of time. Shipments will be distributed to each company booth in advance of the representatives' arrival on October 15.
All swag shipments must arrive at the address below no later than Monday, October 8, 2018.
Please ship all swag to:
Sydney Garstang
CMS Partners Program
Mail Code 305-16
Pasadena, CA 91125
Booth Setup
Timing
We request that representatives have their booths ready for display by 12:30pm to ensure a prompt start to the Demo Fair.
We will have all assigned booths ready for setup starting at 11:00am to allow company representatives time to arrive on-site, unload, park, and arrange their booths.
Unloading and Parking:
Avery Circle, located on Holliston Avenue just East of the Demo Fair venue, will be the Loading Zone for the event. Parking in the Circle is for loading/unloading only; vehicles must otherwise park in a commuter (unmarked) space in one of Caltech's lots or structures.
Parking in a commuter space requires a visitor parking permit, which can be purchased from one of the lot/structure pay stations. More information about parking on campus can be found here.
Please refer to this annotated map for the location of the Techfest loading zone, as well as parking options once unloading is complete.
Company Booth Check-in:
We ask that all Company Booth representatives check in with us upon arrival at the Check-in Table that will be located on Moore Walk.
We will have preprinted name badges for representatives whose names we received in advance, and will have blank name badges available as well.
Booth Assignments:
The layout for the Demo Fair, with booth assignments, will be linked here when available.
Please note that booth assignments are subject to change. The listing will be updated online as needed. We will have staff on-hand during the setup window to assist representatives in locating their booths.
WiFi
Company members of the CMS Partners Program will have wireless Internet access while on-campus. Details will be sent to all registered company attendees prior to the event.
Lunch Provision
Boxed lunches will be available during the setup window (11:00am-12:30pm) for company representatives who are attending Techfest to staff company booths. Details will be provided in the Techfest logistics rundown that will be sent via email to all registered company contacts no later than Friday, October 5, 2018.
Staffing
CMS Staff will be present on Moore Walk during the setup window to assist in locating booth assignments, as well as during the event and breakdown to answer any questions.
Please note that we cannot provide staffing to guard electronics and other equipment brought in by representatives for company booths. We are not liable for damages or loss associated with electronics or equipment left unattended. Please plan to station at least one representative at your booth at all times for the duration of the Demo Fair if this is a concern.
Booth/Event Breakdown
The Loading Zone will reopen at 3:00pm for reloading of equipment following the Demo Fair.
If you need to ship materials from Caltech following the event:
Please bring completed return shipping slips, with your account information, for all of your packages. We recommend using FedEx or UPS.
Sealed and properly addressed packages will be shipped by Caltech's Shipping & Receiving staff following the event.
We recommend that you also bring other packing supplies, such as tape, scissors, markers, etc.
CMS Staff will not be responsible for packing any company materials, and we are not liable for the cost of shipping.
Questions/Concerns
Please contact us at cmspartners-infocaltech.edu.

We look forward to seeing you at Techfest!